2011 Wolfpack Results
2 Sept 2011
Back to Track Magazine
For the last 2 years because of construction and course changes the Wolfpack has been reduced to a small number of league schools.
This year's results board was photographed and uploaded to Google Sites by Bill Cleaves.
There you'll find a slideshow of the boards and a course map.
That link is HERE.

However to make the boards easier to read I downloaded the photos and put them together in one large zoomified image that you can view full screen.
Click on the picture below to enlarge and zoom around.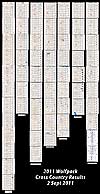 Athletic.net Results are here.
However, because the results were hand-done and not uploaded, only those results that the coaches uploaded themselves will appear in the database.