Track Magazine Presents

San Diego County High School Track & Field and Cross Country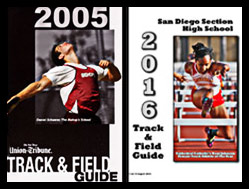 Steve Brand's Track and field guides from 2005 to
the present.
Wolfpack
28 August


Rock School
Small School
3 Sept


Mustang
11 Sept

Bronco
Kit Carson
12 Sept

RedHawk
Small School
25 Sept
Train with the best... Check out

Prodigy Coaching

and

Prolific Athletes
Tonie Cambell (Prodigy) and Ryan Flaerty (Prolific) have put together some great programs to take you to the next level.
Check out the two links above.... Prodigy is in the South Bay area, Prolific is in Carlsbad.

2015 Local Track Invites
Coaches... if your meet is enclosed in asterisks I have only the Athletic.net info ... please send an info sheet or a link.
7 March :
Mt. Carmel Field and Distance | Results | Results on Athletic.net
Tiger Relays | Results on Athletic.net
Mira Mesa Frosh/Soph
13 March : Calvin Christian Crusader Classic ... RESULTS
14 March : Bronco Invite | * Matador * | Desert Classic Relays
21 March : Elmer Runge | Falcon (full) | Sweetwater Relays
March 26-27-28 : Aztec Invite (26-27 Multi Events, 27-open events + Distance Carnival, 28 Invite and HS events)
28 March | Mt. Carmel ... RESULTS | Calvin Christian Small Schools Invite ... RESULTS
4 April : Willie Banks Invite
4 April: Arnie Robinson Invite | Final Info - Important links
10-11 April is the Arcadia Invite
18 April : Jaguar
25 April : Mustang - Interested Coaches Please Contact Ian Cumming at 619-370-9866
UCSD Triton Invite (must compete as unattached)
1 May: * Escondido Invite *
2 May: Frosh Soph Meet (Del Norte Home Page)
---
Stuff below will be moved to another page soon and this page will be reorganized

---
2014 Local Cross Country Invite Schedule
29 Aug: Wolfpack | Athletic.net
30 Aug: Asics Cougar Classic 6-mile relay | Athletic.net | Photos of Varsity Races
30 Aug: Vaquero Stampede at Lindo Lake | Athletic.net
13 Sept: Bronco Invite Results
12 Sept: Mustang Invite | Athletic.net
20 Sept: M. Carmel Invite Results and Photos
27 Sept: South Bay Invite Results
27 Sept: Dana Hills Invite
4 Oct: Saints Small School Invite Results
18 Oct- So. CAL Invite
24 Oct: Kit Carson (Jaguar) Invite
Oct 24-25 Mt. SAC Invite
CIF Finals Results


TrackMag Sprint and Distance Tables
Instantly print a pace table for any course length or workout. Make Sprint tables for your workouts for any distance.

Single Sheet Version of Jack Daniels VDOT Tables (PDF)
Local Colleges (please send links and updates)
Southwestern College
Mesa College
Cuyamaca College
U.C.S.D.
San Diego State
Pt. Loma Nazarene University
California State University San Marcos
Archives
2013 Track
2012 Cross Country
2012 Track
2011 Cross Country
2011 Summer Track Events

Go to CrownCity.Com/sdtrackmag for content prior to June 2011