Back to San Diego Track Magazine
San DiegoTrack Guidebooks

The San Deigo Track Guidebooks from 2000 to 2023 are now available.
I'm working with Steve Brand to get them all published, we just need to find copies of the ones from the '90s.
The original book was published by Rick Smith in 1965 followed by another in 1971 (see below for scans of both).
Many of the original books were lost but we were able to find some of the old Zip drives with InDesign, Quark Express, and PDF versions intact. Others we just had to scan and use an Optical Character Recognition program to extract the data. The books below include 13 that were never published in paper form (2009 and 2012 through 2023).
Click on an image or the list below. -George Green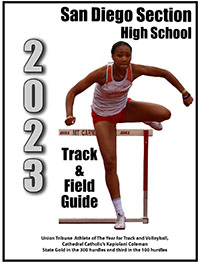 Here is the 2023 track guide book from Steve Brand.
If you see any errors please get back to me and I'll double check and make the
changes.... and pass the edits to Steve.
George Green, plugh@crowncity.com
Updated San Diego Records, All Time Lists, and State Champs
Updated 20 December 2022
Boys Girls
The All-Time lists, San Diego Records, and State Champions used to be in each guide-book so only the last one was current.
We've stopped including this info to make the guidebook smaller if you're inclined to print it out. The up-to-date info is here.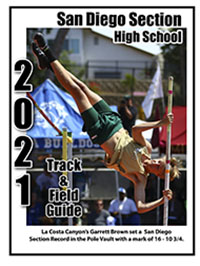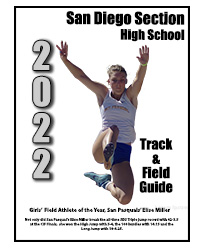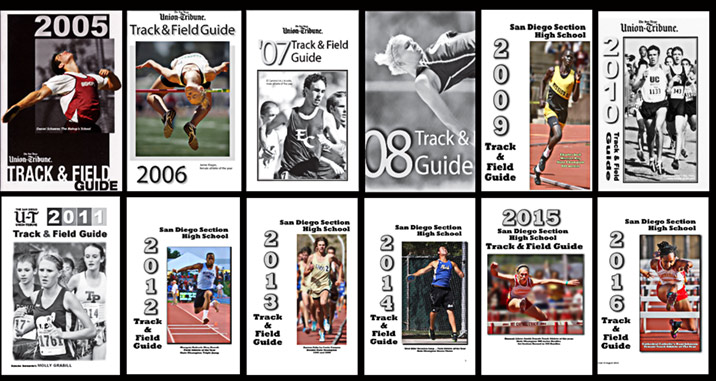 Books from 2004 and earlier
I don't have readable digital copies for the books prior to 2005 so I scanned the paper versions and converted them to searchable PDFs using an Optical Character Recognition program. Because OCR conversions are not always perfect, I've included both the original scan and the OCR results below. That said, I do think that the OCR scans are very good. A spot check didn't come up with any obvious errors. If you see something in an OCR version that you think is an issue, take a look at the Paper Scan.
Also, if you have any books that are not shown here (basically from the 90s) I'd like to borrow them for a few days to scan.
-George Green Email: plugh@crowncity.com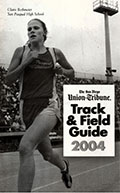 2004 Guide Book: Paper Scan : OCR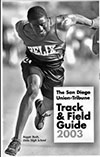 2003 Guide Book: Paper Scan : OCR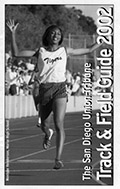 2002 Guide Book: Paper Scan : OCR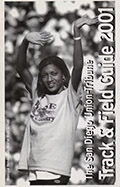 2001 Guide Book: Paper Scan : OCR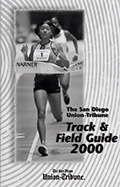 2000 Guide Book: Paper Scan : OCR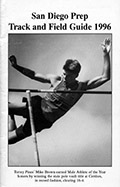 1996 Guide Book: Paper Scan : OCR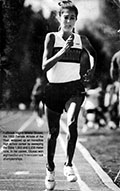 1994 Record Book : Paper Scan : OCR

The 1994 record book contains all-time records
through 1993 as well as best marks from 1993.
The two books below are the original guide books from Rick Smith. The 1971 book was scanned from a copy of the original book, but the 1965 book was scanned from a xerox copy of the book, as I don't have the original. I think it's complete, but I'm not 100% certain as there are only 27 pages.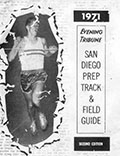 1971 Guide Book: Paper Scan : OCR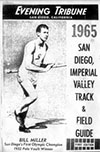 1965 Guide Book: Paper Scan : OCR

1965 Paper OCR
1971 Paper OCR
1996 Paper OCR
2000 Paper OCR
2001 Paper OCR
2002 Paper OCR
2003 Paper OCR
2004 Paper OCR

From 2005 on all copies are from digital files.
2005 PDF
2006 PDF
2007 PDF
2008 PDF
2009 PDF
2010 PDF
2011 PDF
2012 PDF
2013 PDF
2014 PDF
2015 PDF
2016 PDF
2017 PDF
2018 PDF
2019 PDF
2020 PDF
2021 PDF
2022 PDF
2023 PDF